How An Unlikely Career Made Him A Cake Mix King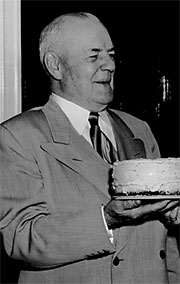 You turn into the supermarket's cake mix aisle and find the Big Three brands on the shelf. There's Pillsbury, whose Doughboy is a cartoon character. There's Betty Crocker; sure, her pretty face is on the box. But it's a portrait drawn from imagination, because she's fictitious.
Then there's the third brand. No cute mascot, no human likeness; just a simple name in simple font.
Duncan Hines is the only one of the trio who was a real person. Yet he had nothing to do with cake mixes, cooking or baking. Then how did his name wind up on a box sitting in your kitchen cabinet?
It's an unlikely story that stemmed from a meandering career path which, among other things, had him rub elbows with a man who later became a household name.
Get ready to meet the real Duncan Hines. Continue reading →