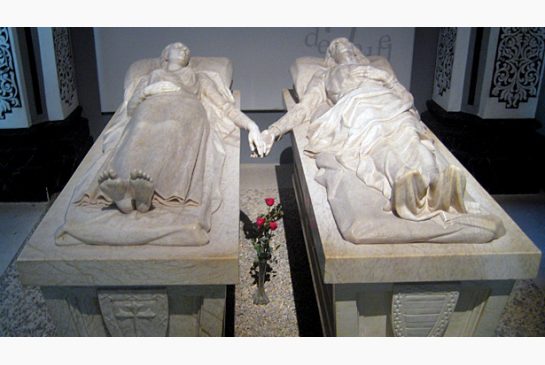 Some loves are doomed from the very start. The attraction, the desire, the passion are deeply genuine and sincere. But people, timing and events conspire to make it a stillborn love, forced to remain forever buried within the star-crossed lovers' memories.
The amazing part of the story I'm about to share is what happened to this couple after they parted. (Spoiler alert: be sure to read all the way to the end for a surprise twist you won't see coming.) With that, let's jump into the Wayback Machine and return to 1876.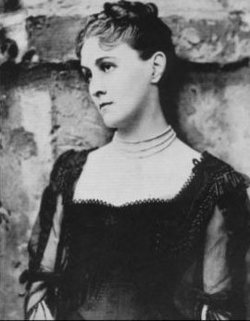 Sara was 21 years old that summer. Tall, beautiful, from a prominent family, she was a prize catch in the blueblood world of New York's Hudson River society. Her father was a wealthy international businessman. They lived in a 40 room mansion. Sara was well-traveled and well-educated, spoke fluent German and French, and carried herself like a queen. Needless to say, she had plenty of suitors.
But the moment she first saw Stanny, Sara fell into a love deeper than a bottomless pit. He wasn't anything like the genteel admirers who swarmed around her.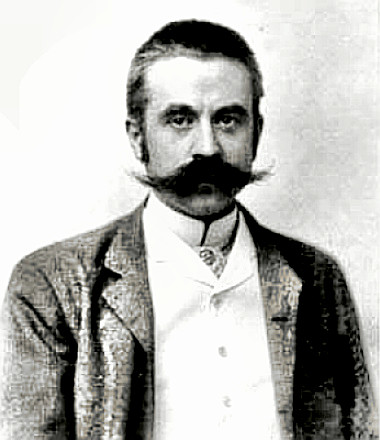 Stanny (as his friends called him, short for Stanford) was 22, red headed with a sweeping moustache and an oversized personality to match. He was an aspiring architect who impressed Sara as witty, kind and generous. He was already a sophisticated collector of expensive art and antiques, and he wanted his next acquisition to be Sara's hand in marriage, for he loved her very much.
There was just one problem, and it was a biggie.
Sara's father couldn't stand Stanny. I'm not talking a casual dislike. He loathed the young man. He found Stanny loud, brash, tasteless, calling him "my red headed terror." In fact, the father considered him the very personification of the type of man Sara shouldn't marry.
Sara faced a major dilemma. She practically worshipped her father; in her eyes he could do no wrong. (To his credit, he dearly loved, Sara, too.)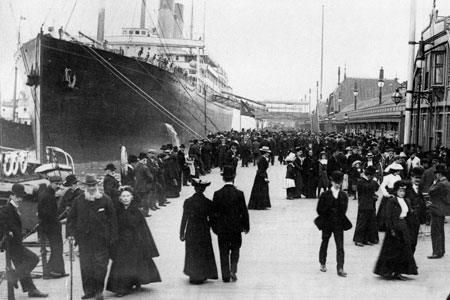 So the dad did what wealthy Victorian fathers typically did in that situation: he packed Sara's bags and sent her on a nine-month grand tour of Europe. It didn't work. Sara mooned over Stanny as she moved around the Continent.
When she returned home and still hadn't gotten the boyfriend out of her system, the dad then sent her in the opposite direction: she was hustled off to Hong Kong to stay with relatives for a while.
Sara finally accepted the inevitable. She and Stanny would never live happily ever after together. Stanny was the love of her life, but she simply could not bring herself to defy the father she adored. The relationship ended, and the lovers sadly went their separate ways.
Maybe this was a case of "father knows best" because, unknown to anyone, Stanny had a dark secret.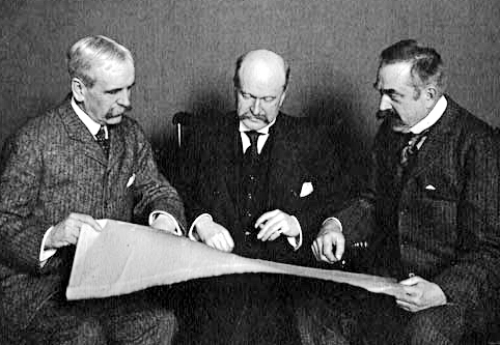 "Stanny" was Stanford White, who went on to become America's most famous and successful architect in the late Victorian era. He designed mansions for millionaires in Newport. He drew plans for impressive churches and sturdy business buildings in New York City. And in an amazing twist of fate, he even designed the second Madison Square Garden, where his hidden secret ultimately led to his very public death.
Although Stanny married a rich Long Island woman in 1884, and they had a son in 1887, that didn't stop him from indulging his secret: he sexually preyed on teenage girls.
Stanny truly was what we know today as a sexual predator. He kept an elegant apartment on New York City's West Twenty-fourth Street (ironically located above the famous FAO Schwarz toy store). He "groomed" young girls, led them to his love nest, and had his way. Then he moved on to his next conquest.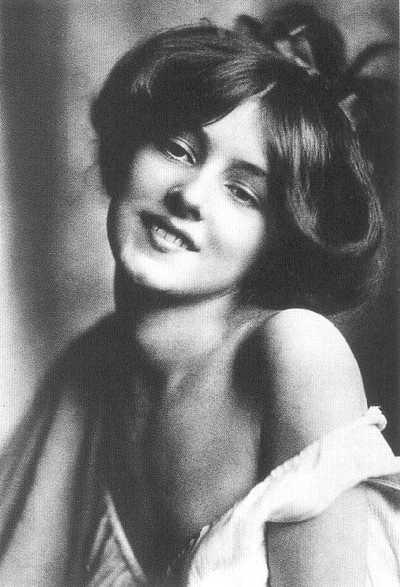 Among his victims was a young beauty named Evelyn Nesbit. She came from a poor family and relied on her stunning good looks for her livelihood. Evelyn appeared on stage at age 14. By 16, she was one of the famous Gibson Girl models whose faces filled major print advertisements. (You could even say she was an early Super Model.) That same year she landed a role in Broadway's wildly popular Floradora show … and she met Stanford White, too.
The 47 year-old architect lured her to his hideaway, persuaded her to change into a yellow kimono, and kept pouring glasses of champagne. She eventually woke up in his bed and realized what had happened. Evelyn later said, "I was a virgin when I went into the room. I was not when I left it."
Time passed. Evelyn soon fell in love with a young John Barrymore, who proposed marriage. But because he was a broke, struggling actor, her mother didn't consent.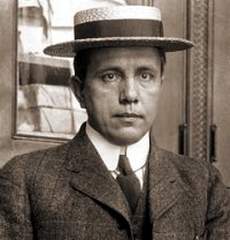 However, the mother had no problem consenting when Harry K. Thaw, an equally young social gadfly from a Pittsburgh family said to be worth $40 million (nearly $1 billion today) proposed.
But Harry K. Thaw had his own issues. He was, to put it charitably, mentally unstable and subject to wild, often violent mood swings. And he was severely infatuated with Evelyn.
He was also was a firm believer in the Victorian ideal of sexual purity in the woman a gentleman should take for a wife. Knowing this, Evelyn declined when he first popped the question.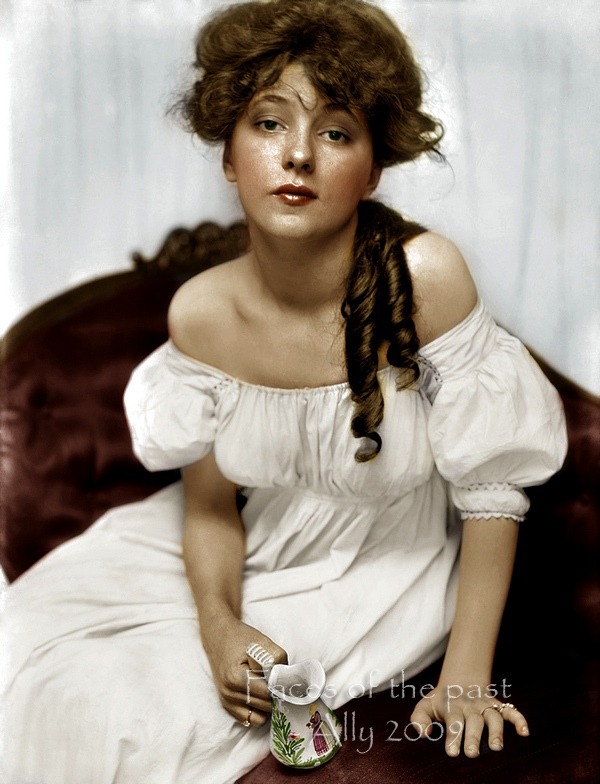 Harry persisted. When he proposed again, she said she couldn't accept because she was not "chaste." A lengthy, grueling inquisition followed where Harry demanded to know everything. Everything; every minute detail. She sobbed, became hysterical, and answered each humiliating question. He was grateful for her honesty, then he cried, too, then he grew furious. Then he repeated it all over again. And again. It was a torturous session which ended with him saying he still loved and wanted to marry her.
But a deadly seed was now planted in Harry K. Thaw's deeply ill mind: Stanford White must be punished for what he had done to Evelyn.
(If this part of the story sounds familiar, that's because it is the basis for the best-selling novel, movie and Broadway play "Ragtime.")
The couple married. Harry became an increasing nuisance to Stanford White as the years went by, until things came to a head on the broiling summer night of June 25, 1906.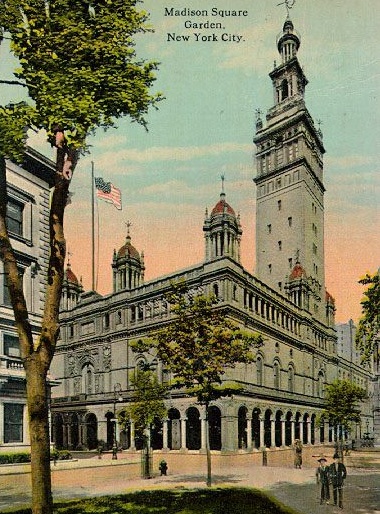 The Thaws were preparing to sail for Europe the next day. At the last moment, Harry bought tickets for a popular show on the rooftop theater of Madison Square Garden. It was almost 11:00 p.m. The performance was winding down with its grand finale number, "I Could Love a Million Girls." Despite the stifling heat, Harry wore a heavy black coat over his tuxedo.
Suddenly, Stanford White walked in and was escorted to his usual table down front.
And that, at long last, pushed Harry over the edge.
While the chorus sang on stage, he walked over to the table, pulled a pistol out of his coat and fired three shots, killing White instantly and blowing away much of his face. Harry stood over the body and shouted either, "You ruined my wife," or "You ruined my life." (Witnesses reported hearing it both ways.) Pandemonium broke out. Harry held the gun above his head and slowly walked away until police apprehended him.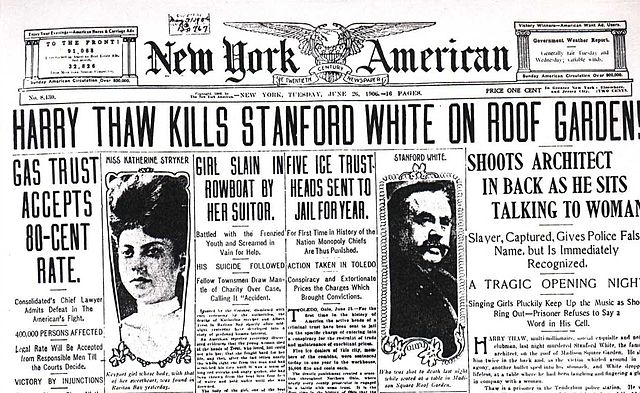 What followed was the first "Trial of the Century." It was national news reported in lurid detail day after day. (In fact, Harry actually had two trials. The first resulted in a deadlocked jury; in the second, he was ordered locked in an insane asylum for life. His family's immense wealth was used to persuade a judge to release him a few years later.)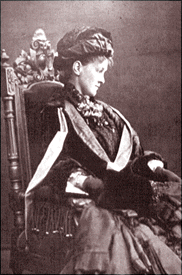 And remember Sara, from the start of our story?
She was 51 when her Stanny was murdered. She quietly mourned him the rest of her life. "Sara never stopped loving Stanford White," a close relative later said. "He was the only man she ever loved."
Sara had moved on with her life after accepting that she and Stanny would never marry. In 1880, at age 26, she wed a 53 year-old wealthy widower. They soon had one child, a son.
Sara's full name was Sara Ann Delano. Her husband's name was James Roosevelt.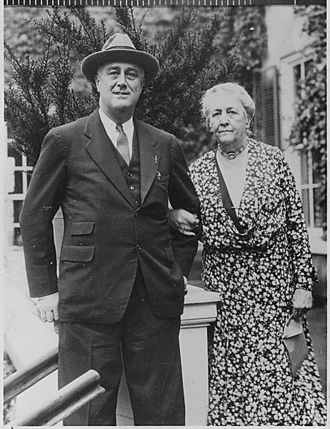 And the baby's name was Franklin Delano Roosevelt.
You can't help but wonder who would have guided America out of the Great Depression and through World War II if the star-crossed lovers had changed the father's mind and been permitted to marry.
On such small slivers do the fate of nations, and in this case the entire world, invisibly hang.
Did you find this enjoyable or helpful? Please continue to join me each week, and I invite you to read Tell it Like Tupper and share your review!
Curious about Tell It Like Tupper? Here's a chance to see for yourself. Take a sneak peek at a couple chapters in this free downloadable excerpt.