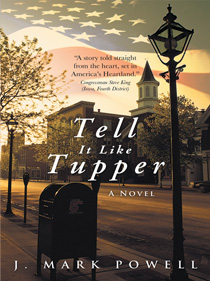 Get ready to visit the places where presidents, both real and fictitious, have walked.
From a snow-covered country road in present day Iowa to a decorated box inside Ford's Theatre at the end of the Civil War, J. Mark Powell takes you on a captivating journey into America's heartland, and into one of the most heart-breaking moments in American history.
He draws on his many years as a TV journalist, his experience as a congressional staffer in Washington, and his lifelong passion for history to craft intriguing tales.
Powell's storytelling brings a you-are-there believability to the scenes he describes, and he couples it with characters so crisp and authentic, you feel you know them. Throw in fast-paced excitement, and you can see why one reviewer calls reading his novels "a delightful trip that always leaves me ready to go again."
Tell It Like Tupper, J. Mark Powell's newest novel, is the charming tale of how a small-town engine repairman's life is turned upside down when he unknowingly becomes friends with a presidential candidate. Thanks to Glenn Tupper's common-sense advice, his new pal is launched on the road to his party's presidential nomination, and Tupper winds up in the national spotlight. It's tremendous fun … until a dark secret is exposed that threatens to destroy Tupper's family. With America watching, it's up to a quirky campaign blogger to find out who is behind the dark effort to derail the candidate and ruin Tupper's life. The story races to its climax on the eve of New Hampshire's presidential primary, with everything hinging on what is uncovered.
Praise for Tell It Like Tupper!
"Tell It Like Tupper is told straight from the heart, and is set in America's Heartland. It accurately portrays the virtues of real-life Iowans who, just like Glenn Tupper and his fictitious neighbors, aren't afraid to meet the challenges that come their way.  A must-read for anyone who enjoys the charms of small-town Americana, with a behind-the-scenes glimpse into presidential campaigning thrown in, too." –Congressman Steve King (Iowa, Fourth District)
"From the farmlands of Iowa to the brick textile mills of New Hampshire, the path to a party's presidential nomination winds through many locations.  Tell It Like Tupper takes its readers along for the ride, with a you-are-there feel that realistically captures life on the campaign trail.  A perfect story for those of us who still believe, as Ronald Reagan believed, that America's best days are yet to come." –Mike Biundo, National Campaign Manager of Rick Santorum's 2012 presidential campaign and political consultant
"Like Tupper, I'll tell you like it is—this book is a delight! A funny, affecting and disturbingly accurate look at American elections and the politicians who all-too-often stumble through them. A must-read for my fellow political junkies." –Michael Graham, Talk Radio Host and frequent Fox News contributor
"Magic is created in Iowa and New Hampshire when everyday people interact with some of the most powerful people in the world. Tell It Like Tupper captures these surreal moments and reminds us that for all of the charm of town hall meetings and ice cream socials, the one place you don't want to be is between a politician's ambition and the title of the most powerful person in the world." –James Pindell,WMUR.com Political Director and editor of New Hampshire Political Scoop